In less then 30 minutes you will create a reusable test bench that can apply different stimulus and verify the results of a clocked SRAM. Below is a schematic of the different components that you will construct. First you will create the Project file that controls the generation of the interface model (test bench). Next you will draw the different transaction diagrams that are needed to communicate with the SRAM. And then you will edit the sequencer process to apply the transactions to the model under test. Finally you will simulate the design and verify the operation of the SRAM model.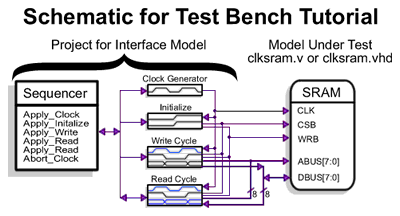 Figure 1: Tutorial Schematic
This tutorial assumes that you are familiar with the SynaptiCAD timing diagram editing environment. If you would like more information on the drawing environment then work through the short Help > Tutorial > Basic Drawing and Timing Analysis tutorial.