Congratulations! You have completed the Simulated Signals tutorial. In this tutorial, you have used a Boolean Equation to define the waveform of a signal, and experimented with the delay operator and multi-bit equations. You have also worked with the internal register and latch circuits and the template function for generating a starting point for writing behavioral code. And fininally you have generated a simulated bus.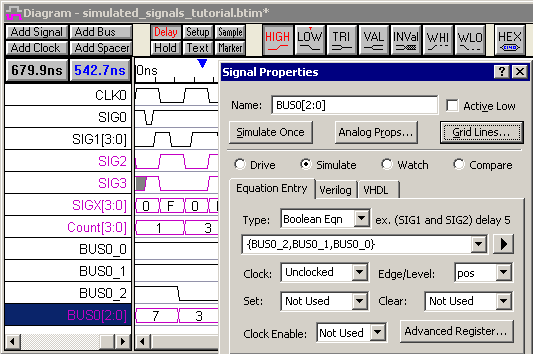 For more information on simulated signals and the internal simulator look at:
•Chapter 4: Simulated Signals and VHDL and Verilog Export in the Timing Diagram Editor manual.
•Advanced Modeling and Interactive Simulation Tutorial demonstrates how to model a complex circuit using external models, behavioral HDL code, and incremental simulation techniques.
If you currently own Timing Diagrammer Pro or one of the SynaptiCAD Viewers, then these products can be upgraded to WaveFormer Pro or Data Sheet Pro so that you will have access to the Simulated Signal features.