DataSheet Pro is SynaptiCAD's top of the line timing digaram editor, providing the ultimate environment for documentation professionals working with multi-diagram projects. Datasheet Pro's project management features allow users to efficiently combine diagrams from multiple engineers into one project with uniform formatting. Using Object Linking and Embedding (OLE), users can embed timing diagrams into other publishing programs. These images can be edited at any time directly from the publishing program by double clicking on the image to launch DataSheet Pro with the selected timing diagram. Other features include style sheets, view support, web-ready image generation, analog waveform import and display, and support for the industry-standard Timing Diagram Markup Language (TDML) format. Documentation professionals will be able to receive timing diagrams produced by design engineers using any TDML-compatible product, such as WaveFormer Pro or Timing Diagrammer Pro, and embed them directly into publishing programs like FrameMaker and Word.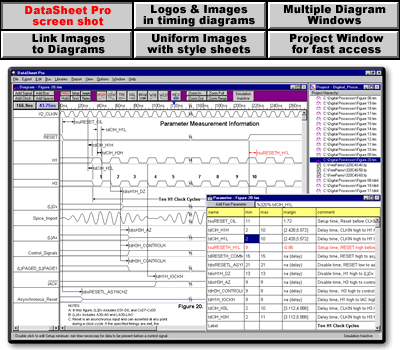 Check out DataSheet Pro's Feature pages:
Mid-level Timing Diagram Editing Features
Basic Timing Diagram Editing Features
Evaluate and Purchase DataSheet Pro
Would you like a quick walk-through of DataSheet Pro? After you download the evaluation version, call 540-953-3390 and ask for Gary. He will give you a brief tour of DataSheet Pro and cover important areas like: drawing waveforms, creating multi-bit buses, documentation techniques, import and export capabilities, and basic simulation features.