Press Release for major product update: November 17, 2005
SynaptiCAD celebrates 14 years of Timing Diagram Editor Development
SynaptiCAD is proud to announce version 10 of Timing Diagrammer Pro, our premier timing diagram editor and timing analysis engine. This version includes over a dozen features to improve the customization, imaging, and visualization of timing information. After 14 years of continuous development, these features smoothly combine with Timing Diagrammer Pro's drawing environment, allowing users to create timing diagrams that fully express and analyze the critical path timings in any system.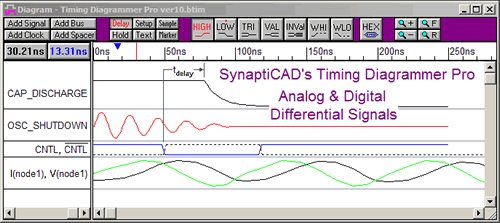 Differential Signals
One of the new timing analysis features is the ability to display differential signals. Since Timing Diagrammer Pro supports both analog and digital display of signals, the differential signals can be used to show everything from complex bus behavior to signal transition capacitance. This feature also ties in with the new ability to set the color and line style of individual signals, so both on-screen and printed copies distinctly show the difference between the superimposed signals.
More Appearance Control
Although Timing Diagrammer Pro is primarily intended as a design tool, it is also used to create documentation for timing specifications and data sheets. Several features have been added to improve look and printing of the timing diagram. Text objects now have left, center, and right justification and also the ability to overwrite graphics they float over to make the text easier to read. The parameter table display has been made customizable with control of column names and appearance. Creation of common analog waveform data such as capacitive charge/discharge, ramps, and sine wave oscillation has been simplified with new label equations. The size of encapsulated Postscript image size is directly settable by the user and can be made larger than A-size paper.
Third party Interface control
Version 10 also sports a CORBA API interface that enables third-party applications to use the tool as a waveform viewer and editor. Several companies are using the CORBA interface to incorporate waveform viewing, editing, and analysis into their products on an OEM basis. In response to requests from OEM customers, SynaptiCAD has also accelerated the display of large waveform data files and the expansion and collapsing of bus information.
General Features
Other notable new features include support for USB hardware dongles, faster startup on UNIX platforms, and CUPS printing support. Timing Diagrammer Pro is available for Windows, Linux and Solaris platforms starting at $1,500. For more information, contact SynaptiCAD at phone (540)953-3390, fax (540)953-3078, email: [email protected], web www.syncad.com
Marketing Contact
For any questions concerning this press release please contact Donna Mitchell at 540-953-3390 or email at [email protected]. High resolution images can be downloaded directly from SynaptiCAD's web site