Press Release for major business acquisition: October 11, 2007
SynaptiCAD Acquires V2V Software and offers HDL Translation service
SynaptiCAD has recently acquired exclusive development and distribution rights to Alternative System Concept's V2V tools for HDL translation for an undisclosed amount. V2V is a set of command line tools that perform automatic translations of source code from VHDL to Verilog and vice versa.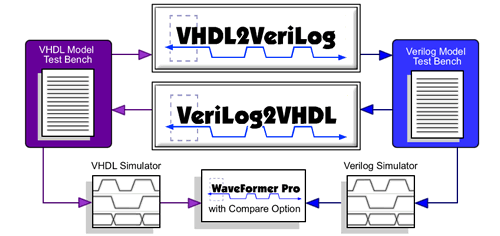 Strong Interest In Translation
Dan Notestein, president of SynaptiCAD, explains the reason for the technology transfer: "A lot of our customers have expressed interest in translating IP and legacy models so that they can debug in a single-language environment. After investigating the available options, we determined that ASC had the best technology for doing the conversion. After some discussions with Jake Karrfalt (CEO of Alternative System Concepts), we decided that the best way to proceed was to let SynaptiCAD take over development and marketing of V2V, giving ASC more time to focus on some upcoming products. The translators fit well into our current HDL product portfolio of test bench generators, debuggers, and simulators and we believe we can achieve good synergy by directly integrating the translators into BugHunter Pro, our debugging graphical interface."
Translation Services Available
Existing HDL translation tools all require some manual intervention by the user, so SynaptiCAD is offering a "full-service" HDL translation service in which they will perform the model translations for a customer and deliver the translated code along with test benches used to demonstrate equivalence of the original models and the translated models. According to Notestein, "This is a great option when the engineers are not familiar with the code that needs to be translated or if they are not conversant in both languages. In these cases, it's about the cheapest, fastest way to get the models in the form they need." Full service translation is available at a rate of $100/hour + $250/day for leased usage of the translation tools.
Pricing and Availability
The V2V translator software is available on Windows and Linux. The software can be licensed on either a permanent or leased basis, and both floating and node-locked versions are available. For more details on pricing options, visit SynaptiCAD's web site at http://www.syncad.com.
Marketing Contact
For any questions concerning this press release please contact Donna Mitchell at 540-953-3390 or email at [email protected]. High resolution images can be downloaded directly from SynaptiCAD's web site at www.syncad.com.