New Product Press Release, November 16, 2009
Free High Performance Verilog 2001 simulator
For a limited time, SynaptiCAD will be giving away free "no strings attached" 6 month licenses for VeriLogger Extreme, a high-performance compiled-code Verilog 2001 simulator that significantly reduces simulation debug time. Free licenses will be available for both Linux and Windows versions of the simulator. Unlike the lower cost simulators typically provided with FPGA tools, SynaptiCAD's simulator is being distributed without any code that slows down the simulator when run on larger designs, making it run over 10x faster than the competition on larger simulation runs.
Not just an evaluation license
"This is not a just an evaluation license, it's a free license that can be used for real commercial work," explains Dan Notestein, president of SynaptiCAD. "There are several established players in the simulator market, so it's not an easy market to gain a foothold. When we started this project, we knew we would need not only a better product, but also a better way to get customers to try it out and see the benefits. After giving it some thought, we decided the best way to enable designers to evaluate the simulator environment was to let them use it for free to develop real designs, since the productivity leap provided by the tool set really comes from a large number of improvements to the test and debug environment, rather than a single major enhancement that's easy to communicate in a short press release."
A Sign of the Times?
SynaptiCAD wants to make it clear that this offer is in no way a response to the current global recession, although it may be fortuitous timing, especially for new startups and engineering consultants looking to keep their initial tool investments low during this risky period. According to Donna Mitchell, VP of Marketing at SynaptiCAD, "We've actually been planning this campaign for well over two years now. We knew that we would see a large increase in our user base with this offer, so before we began the program, we wanted to be very sure we had the product not only extremely stable, but also extremely easy to use, so as to keep our support staff from being overloaded with questions and feature requests. Designing a reliable, easy-to-use simulation environment is much more difficult than it might sound, and it's only now, after working with early customers for a couple of years, that we feel that VeriLogger has reached the maturity level necessary to start this campaign."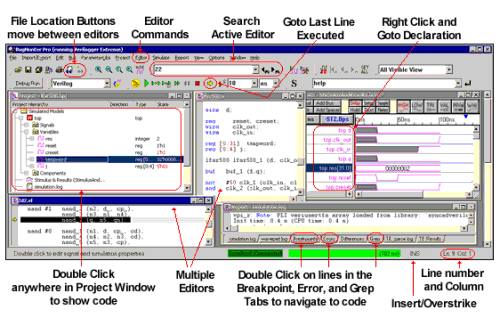 Future Plans for VeriLogger
SynaptiCAD plans shortly to release a version of VeriLogger with full PLI support (currently in beta), as well as support for new Verilog-2005 features such as encryption/decryption of IP models. This update will also be available free of charge to all customer who take advantage now of the free 6-month license offer. Longer term, SynaptiCAD is developing a single-kernel, mixed-language version of the simulator that supports VHDL as well as Verilog.
Pricing and Availability
VeriLogger Extreme is available on Linux, Solaris, and MS Windows. A perpetual license sells for $4000 on Windows. Leasing options are also available, as well as a free, design-size limited version for student and classroom usage. For more information, contact SynaptiCAD at phone (540)953-3390, fax (540)953-3078, email: [email protected], web www.syncad.com
Marketing Contact
For any questions concerning this press release please contact Donna Mitchell at 540-953-3390 or email at [email protected]. High-resolution images can be downloaded directly from SynaptiCAD's web site at www.syncad.com.